TOP OF THE ROCKIES WINTER SNOW CAT/ZIP LINE TOUR. Guide gratuities are not included in the Tour Price., Arrival 30 minutes prior to tour time at 6492 Highway 91, Leadville, Co. 80461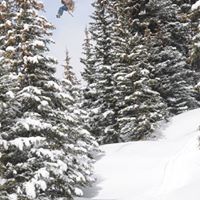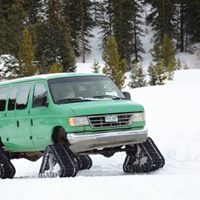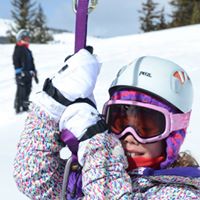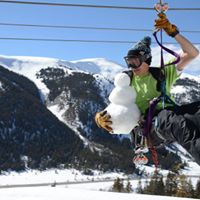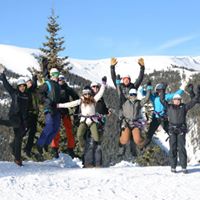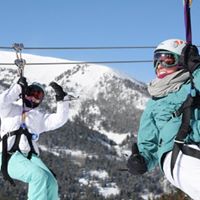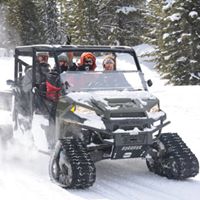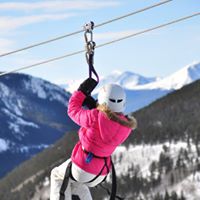 期間: 2 時間 (約)
所在地: Leadville , CO
製品コード: P14QN5
TOP OF THE ROCKIES ZIP LINE TOUR. Fun and Thrills at the Top of the World
Check in at 6492 Highway 91, Leadville, Co. 80461
ARRIVE 30 MINUTES PRIOR TO SELECTED TOUR TIME (8:30 FOR 9:00, 11:30 FOR NOON, 2:30 FOR 3:00)
WE DO NOT PROVIDE SUITS, BOOTS, GLOVES, GOGGLES, OR SCARF. WEAR YOUR OWN PERSONAL WINTER CLOTHING APPROPRIATE FOR BEING OUTSIDE FOR A TWO HOUR TOUR. IF YOU DO NOT COME GEARED UP AND READY TO GO OUT, YOU CANNOT PARTICIPATE. WE DO PROVIDE HELMETS FOR ALL TOURS.
2- HOUR TOP OF THE ROCKIES SNOW/CAT /ZIP LINE TOUR
$125.00 Adults, $100.00 Children - Minimum
Weight 60#, Max: 260
Relax and enjoy
the views in cozy comfort as our powerful Snow Coach climbs almost 1,000
vertical feet to the first zip line departure deck. Look for possible wildlife
as the driver points out areas of interest and gives commentary about the
history of the area. (We reserve the right to use an optional shuttle if trail
conditions are not appropriate for the snow cat. Polaris Rangers, and cat-track
vans also provide safe and scenic transportation up the steep trails.) Our zip
line guides are certified on the course and will accompany guests as they fly
from area to area on lines from 400 to 900 feet, some with cables 300 feet off
the ground. All six separate zip line sections have DOUBLE CABLES FOR SAFETY
and distinctly different terrain. "Self-Braking" is not required; we have an
automatic braking system. Guests will soar side by side on TWIN LINES on four
sections of the 6-section course, over dense pine forests, deep canyons and
remote alpine meadows at 'the top of the world'. ZIP #6, the BIG NUGGET ZIP, brings fliers
down from the high cliffs, landing on the 100' Sky Tower. The Big Nugget is a
TRIPLE ZIP. Our Zip Line is registered with the State of Colorado and was built
and inspected yearly according to the highest standards.


Restrictions and things to consider:
WE DO NOT PROVIDE TRANSPORTATION
FROM ANY LOCATION.


Zip Line Helmets , Full Body Harness and all other appropriate gear is provided.


Ski helmets are not appropriate. WE DO NOT PROVIDE SUITS, BOOTS OR GOGGLES. Guests must arrive in warm and

appropriate waterproof/insulated winter clothing including jackets, pants, gloves, scarves, goggles or sunglasses. Please bring a scarf, facemasks or neck gator. Arrive properly dressed or you will be unable to participate.


Pregnant women cannot participate


Minimum weight for zip line is 60#, Maximum weight is 260#.


A credit card is required at check-in to be used in the rare event of damage. We accept all
major credit cards.

White Mountain has a 48-hour Non-Refundable Cancellation policy:
A refund can only be given if we are notified 48 hours in advance of the tour date. Refunds will not be given
for people who do not show up on the day of the tour. If 4 people are booked and only three people
come, we will not refund for the "no show person". All reservations must be booked and paid in advance.


*A standard liability waiver must be signed before participating in any

activity. This is a part of the check in process at base camp on arrival.


Does not
include customary guide gratuities.


Tour Times:
9:00 a.m., 12:00 p.m., 3:00 p.m.
ARRIVE 30 MINUTES PRIOR TO SELECTED TOUR TIME.

More Detailed driving directions:

White Mountain Base Camp is located at 6492 Highway 92, Leadville, Colorado
80461. From Interstate 70
take Exit 195, Copper Mountain/Leadville.
Continue south on Highway 91 for 14 miles to mile marker 7.

Turn left into our driveway where the 100' high tower stands. Flags fly from the tower and on the entrance road.
Check in and meet your guides at the bright red building.
From points South of Copper Mountain, travel Highway 91 north through Leadville, passing the junction where Highway 24 turns West. Continue North toward Copper Mountain. Look for mile marker 6 on Highway 91. Turn right into our Base Camp. Check in at the red building.